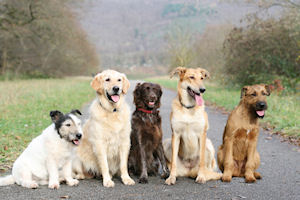 FETCH! is an organization dedicated to providing dog guardians of Island County with areas where they are free to exercise their canine friends off-leash without disturbing others. FETCH! is supported by its members, donations from friends, and volunteers. Join today and become a member of the FETCH! family!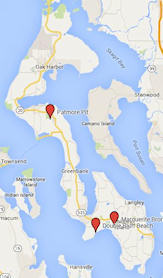 FETCH!, in partnership with the Island County Parks Department, maintains five off-leash parks on Whidbey Island: Double Bluff Beach, Marguerite Brons Memorial Park, Patmore Pit, Clover Valley Dog Park, and Technical Park. For information and directions to the various parks, just click on the map at the right to open a new window with a Google map of the parks.
You can learn more about our organization and it's history, and how you can become a part of it, at our About FETCH! page. To find out more about the benefits of off-leash parks for dogs, dog guardians, and the wider community, see Why Parks? For the latest news about FETCH! and the parks, including our Daily Wag newsletter and calendar of events, see Latest News. We've also collected a number of links to local dog-related organizations and businesses on our Cool Links page. For more detailed information about an individual park, just click the button to the left with the park name.
It's easy to donate to FETCH! Just click the Donate button at the bottom left side of any page to find out about the 3 easy ways to help FETCH!, a 501(c)3 non-profit organization, with your tax deductible contribution. We look forward to seeing you at the park!
Thanks, Gail and Bob!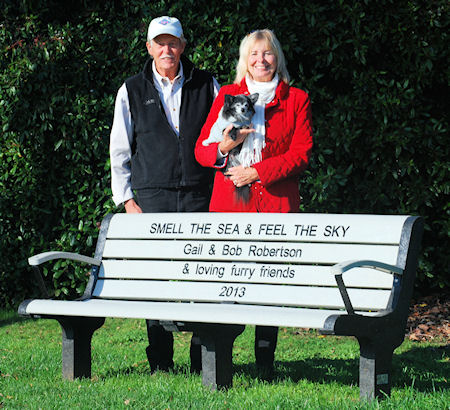 If you have appreciated being able to sit and rest on the beautiful new bench at Double Bluff, it's due to the generosity and labor of two of our FETCH! supporters, Gail and Bob Robertson. They contacted FETCH! a few months back and offered to donate and install a bench at Double Bluff for all of us to enjoy. They took care of all the steps for getting the bench installed, including identifying the site for county approval, ordering and buying the bench, and building and installing the bench on site. It's a solid, heavy duty bench, built to last a long time. So the next time you're at Double Bluff, take a few minutes to "Smell the sea and feel the sky" (a quote from Van Morrison's "Into the Mystic"), and if you happen to see Gail and Bob, give them a big thanks from you and your furry friends.