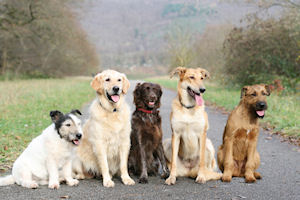 FETCH! is an organization dedicated to providing dog guardians of Island County with areas where they are free to exercise their canine friends off-leash without disturbing others. FETCH! is supported by its members, donations from friends, and volunteers. Join today and become a member of the FETCH! family!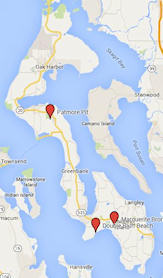 FETCH!, in partnership with the Island County Parks Department, maintains five off-leash parks on Whidbey Island: Double Bluff Beach, Marguerite Brons Memorial Park, Patmore Pit, Clover Valley Dog Park, and Technical Park. For information and directions to the various parks, just click on the map at the right to open a new window with a Google map of the parks.
You can learn more about our organization and it's history, and how you can become a part of it, at our About FETCH! page. To find out more about the benefits of off-leash parks for dogs, dog guardians, and the wider community, see Why Parks? For the latest news about FETCH! and the parks, including our Daily Wag newsletter and calendar of events, see Latest News. We've also collected a number of links to local dog-related organizations and businesses on our Cool Links page. For more detailed information about an individual park, just click the button to the left with the park name.
It's easy to donate to FETCH! Just click the Donate button at the bottom left side of any page to find out about the 3 easy ways to help FETCH!, a 501(c)3 non-profit organization, with your tax deductible contribution. We look forward to seeing you at the park!
Meeting to discuss spin-off of Oak Harbor dog parks Monday, March 24, 6:30 PM at Oak Harbor Library
There will be a meeting on Monday, March 24 at 6:30 PM at the Oak Harbor Library to discuss the pros and cons of setting up a local group, separate from FETCH, to maintain and improve the two off-leash dog parks in Oak Harbor.
Although the two parks in Oak Harbor are owned by local government entities (Clover Valley Dog Park by the North Whidbey Parks and Recreation Association – NWPRA, and the Oak Harbor Dog Park on Technical Drive by the City of Oak Harbor), since 2002 these parks were managed by Island County based on an interlocal agreement signed by the various local governments. The ten year term of that agreement expired in 2012, and the county decided at that time not to renew those agreements with NWPRA and the city of Oak Harbor. FETCH! still has an Adopt-a-Park agreement with Island County for the 3 parks located further south on the island.
With sole responsibility for the parks reverting to NWPRA and the city, the board of directors of FETCH thought it might be time to explore the idea of setting up a separate group of dog park users, local to Oak Harbor, to "adopt" these parks and to work with the local government agencies.
We have spoken to several of the park users about this idea, and they liked the idea of having more local control of the parks. However, we want to make sure we hear from as many of you as possible to discuss the pros and cons of this approach before making any decision.
To that end, we have reserved a large meeting room (60+ people capacity) on Monday, March 24 at 6:30 PM in the Oak Harbor Library (1000 SE Regatta Dr., Oak Harbor, WA) to discuss this. If you are a user of the parks in Oak Harbor, please feel free to attend and give us your input. We look forward to seeing you there.